Benefit Concert "SickKids" A Night To Remember
Published: Jul 5, 2016 - Posted by: ...
Benefit concert "SickKids"
A night to remember
Athens
Wednesday, August 27, 2014
(Press conference)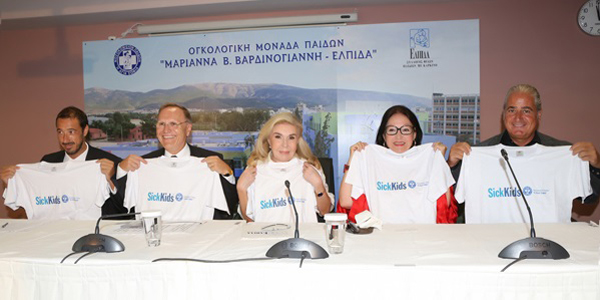 From left to right:
Mr. Manolis Papasavas, President & CEO at Aghia Sophia Children's Hospital;
Mr. Robert Peck, Ambassador of Canada to Greece;
Mrs. Marianna Vardinoyannis, President of ELPIDA and UNESCO Ambassador;
Mrs. Nana Mouskouri, singer and UNICEF Ambassador;
Mr. Peter Eliopoulos, Greek-Canadian businessman.
insidenews.gr: Ελληνοκαναδική συνεργασία κατά του παιδικού καρκίνου (August 27, 2014)
thetoc.gr: "A Night to remember" Gala to help fight children's cancer (August 28, 2014)
onmed.gr: Ελληνοκαναδική συνεργασία για την αντιμετώπιση του παιδικού καρκίνου (August 29, 2014)
VIDEO: megatv.com: Η Νανά Μούσχουρη για τα παιδιά της "Ελπίδας" (August 30, 2014)
VIDEO: star.gr: Συνεργασία Ελπίδας μεταξύ Ογκολογικού Νοσοκομείου Παίδων & «SickKids» του Καναδά (August 30, 2014)
elpida.org:Greek and Canadian Co-0peration in the field of childhood cancer (2014)
VIDEO: vimeo.com: A message from Nana Mouskouri – A Night to Remember (September 12, 2014)
VIDEO: A night to remember with Nana Mouskouri (October 1, 2014)
pappaspost.com: Canada and Greece partner in pediatric cancer initiative (October 9, 2014)
canada.greekreporter.com: (October 15, 2014)
prnewswire.co.uk: Media Advisory/Photo Opportunity – A Night to Remember: Music legend Nana Mouskouri to attend gala supporting SickKids International work in Greece (October 21, 2014)
ad-hoc-news.de: Send money to Greece (October 22, 2014)
AUDIO: soundcloud.com: Nana Mouskouri Interview on Jewel (October 23, 2014)
VIDEO: Sick Kids-Greece Initiative Gala on Mega Channel (November 11, 2014)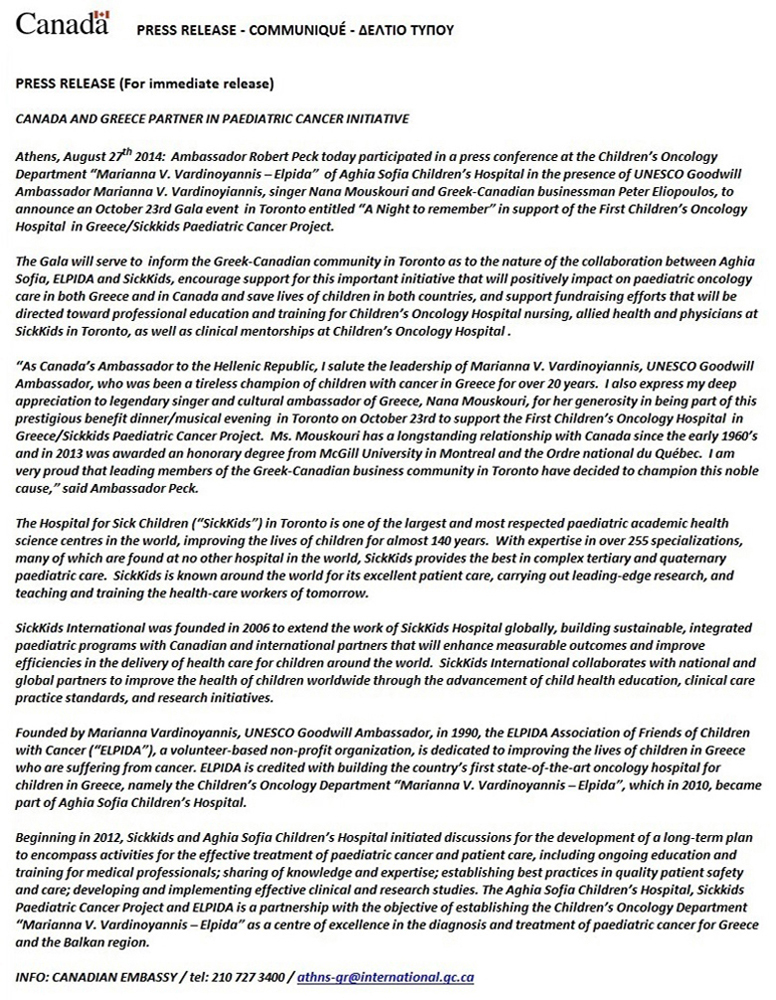 Press release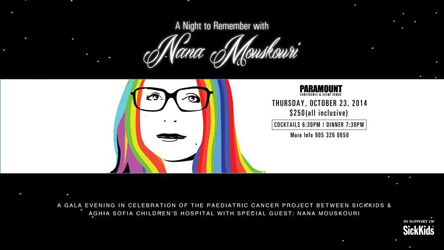 Website "A night to remember with Nana Mouskouri"
Woodbridge (Toronto)
Paramount Conference & Event Venue
Thursday, October 23, 2014 – 06h30 PM
| | |
| --- | --- |
| Letter | |
Known worldwide by the diminutive SickKids, the Hospital for Sick Children in Toronto cooperates with institutions around the world. On the occasion of the 46th Congress of the International Society of Paediatric Oncology, Nana agreed to give a benefit concert for ELPIDA, Aghia Sophia, the First Children's Oncology Hospital in Greece.
During that gala evening, the 615 guests have a very warm welcome. In the lobby, waiters offer a variety of amuse-bouches. And the bartenders are happy to prepare an appetizer. When the reception hall opens, guests sit down at the tables for a meal. The starter consists of salad and cod. The main dish, of veal and of quail. As dessert, a tartlet with the inscription "Happy birthday."
Several persons take the floor, including the Ambassador of Canada to Greece, Mr. Robert Peck. He speaks in glowing terms of Nana: «She has a relationship with Canada for 50 years. Her grandchildren are Canadian and we have adopted her as one of us. In 2013, she was honored by McGill University and by the Government of Quebec.»
The ceremony is projected on six screens, like Nana songs accompanied by video montages. Follows an excerpt from her speech at McGill University in 2013 and her last wave at the Herod Atticus Theatre in Athens in 2008.

Videos:
Autumn leaves; Athina; Ta pedia tou Pirea; Malagueña; Illissos; The rose; A place in my heart; Try to remember (with Harry Belafonte) TV 1979; Je chante avec toi liberté; I have a dream; Over and over; Opa ni-na-nai (with Danny Kaye and Harry Belafonte) TV 1965.
At 21:30, Nana is on the stage. She sips a glass of champagne with the organizer of the evening, Mr. Peter Eliopoulos. A hostess sings for her "Happy birthday to you" and she's presented with a cake. The officials of SickKids join them on the stage to take a series of photos with a giant specimen of the check. The gala brought $205,000.
Accompanied by four musicians, Nana presents a concert mainly composed of Greek songs to please to all her compatriots present. Her performance was to last 45 minutes. But thanks to her generosity, we get 75 minutes.
| | |
| --- | --- |
| Among the most notable titles, there is of course, "Plaisir d'amour" that Nana dedicates to Mr. Peck. Also "Yesterday's Dreams" from her Canadian repertoire. Nana had not performed it on stage for many years, but her sensitivity and her interpretation remain intact. At the very end, she offers us a song of hope, "Hartino to fengaraki", without a microphone and without musical accompaniment. We can then enjoy all the music in her voice. Also in the program, her daughter Lénou whose voice and stage presence charm the audience. | |
Songs from the concert:
01- Mia fora ki enan kairo
02- Tora pou pas stin xenitia
03- Try to remember
04- I endekati entoli
05- Yesterday's dreams
06- Adieu Angelina (Nana and Lénou)
07- Fearless heart (Lénou)
08- Odos oniron (Nana and Lénou)
09- Roses Love sunshine
10- Plaisir d'amour
11- Je chante avec toi liberté
12- Pame mia volta sto fengari
13- Over the rainbow
14- Aspri mera
15- Amazing Grace (Nana and Lénou)
16- Je reviens chez nous (Nana and Lénou)
17- Yalo yalo (Nana and Lénou)
18- Ximeroni (Nana and Lénou)
19- Milisse mou (Nana and Lénou)
20- The white rose of Athens (Nana and Lénou)
21- Ta pedia tou Pirea (Nana and Lénou)
22- Hartino to fengaraki
After the show, Nana and Lénou kindly accept to go to the reception to meet people. This is an opportunity for many to talk with them, to take pictures and to enjoy the variety of drinks and dessert provided. The birthday cake is ready to serve.
By responding to this invitation, Nana demonstrates once again her sensitivity to children and humanitarian causes. She contributes to make EPILDA known to the Greek-Canadian community. At the same time, she testifies the continuity of diplomatic ties between Greece and Canada.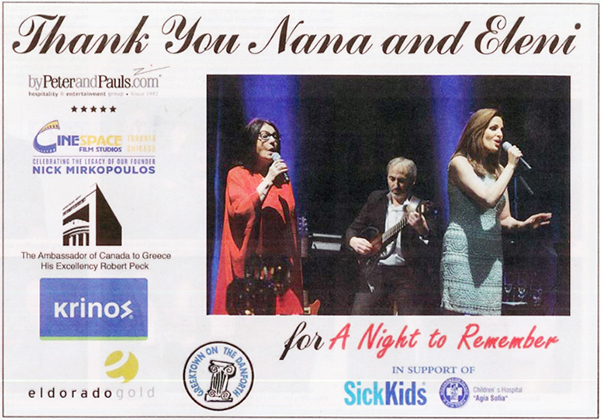 bypeterandpauls.com: A Night to Remember featuring Nana Mouskouri
http://www.nanamouskouri.qc.ca/presse/2014/a_night_to_remember_eng.html