Canada and Greece Partner in Pediatric Cancer Initiative
Published: Oct 9, 2014 - Posted by: Gregory Pappas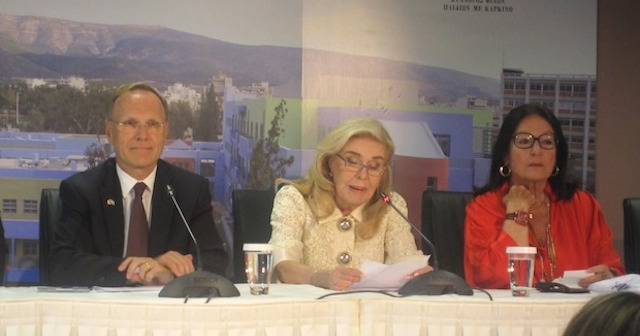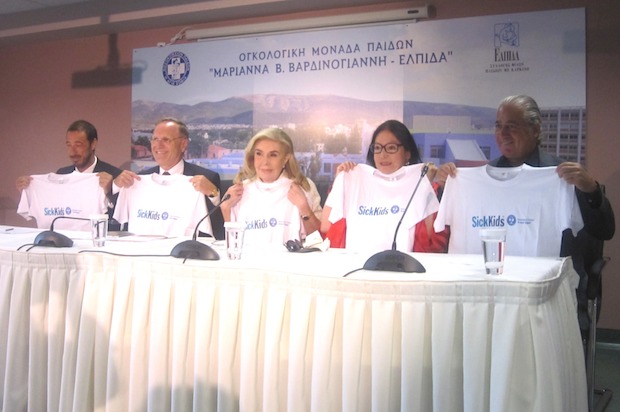 Ambassador Robert Peck, the Canadian Ambassador to Athens joined other notable philanthropists and organizers at a press conference at the Children's Oncology Department "Marianna V. Vardinoyannis – Elpida" of Aghia Sofia Children's Hospital in the presence of UNESCO Goodwill Ambassador Marianna V. Vardinoyiannis, singer Nana Mouskouri and Greek-Canadian businessman Peter Eliopoulos, to announce an October 23rd Gala event in Toronto entitled "A Night to Remember" in support of the First Children's Oncology Hospital in Greece: Sickkids Paediatric Cancer Project.
The Gala will raise funds and awareness in the Greek-Canadian community in Toronto regarding the collaboration between Aghia Sofia, ELPIDA and SickKids and encourage support for this important initiative that will positively impact on pediatric oncology care in both Greece and in Canada and save lives of children in both countries, and support fundraising efforts that will be directed toward professional education and training for Children's Oncology Hospital nursing, allied health and physicians at SickKids in Toronto, as well as clinical mentorships at Children's Oncology Hospital .
"As Canada's Ambassador to the Hellenic Republic, I salute the leadership of Marianna V. Vardinoyiannis, UNESCO Goodwill Ambassador, who was been a tireless champion of children with cancer in Greece for over 20 years. I also express my deep appreciation to legendary singer and cultural ambassador of Greece, Nana Mouskouri, for her generosity in being part of this prestigious benefit dinner/musical evening in Toronto on October 23rd to support the First Children's Oncology Hospital in Greece/Sickkids Pediatric Cancer Project. Ms. Mouskouri has a longstanding relationship with Canada since the early 1960's and in 2013 was awarded an honorary degree from McGill University in Montreal and the Ordre national du Québec. I am very proud that leading members of the Greek-Canadian business community in Toronto have decided to champion this noble cause," said Ambassador Peck.
The Hospital for Sick Children ("SickKids") in Toronto is one of the largest and most respected pediatric academic health science centers in the world, improving the lives of children for almost 140 years. With expertise in over 255 specializations, many of which are found at no other hospital in the world, SickKids provides the best in complex tertiary and quaternary pediatric care. SickKids is known around the world for its excellent patient care, carrying out leading-edge research, and teaching and training the health-care workers of tomorrow.
SickKids International was founded in 2006 to extend the work of SickKids Hospital globally, building sustainable, integrated paediatric programs with Canadian and international partners that will enhance measurable outcomes and improve efficiencies in the delivery of health care for children around the world. SickKids International collaborates with national and global partners to improve the health of children worldwide through the advancement of child health education, clinical care practice standards, and research initiatives.
Founded by Marianna Vardinoyannis, UNESCO Goodwill Ambassador, in 1990, the ELPIDA Association of Friends of Children with Cancer ("ELPIDA"), a volunteer-based non-profit organization, is dedicated to improving the lives of children in Greece who are suffering from cancer. ELPIDA is credited with building the country's first state-of-the-art oncology hospital for children in Greece, namely the Children's Oncology Department "Marianna V. Vardinoyannis – Elpida", which in 2010, became part of Aghia Sofia Children's Hospital.
Beginning in 2012, Sickkids and Aghia Sofia Children's Hospital initiated discussions for the development of a long-term plan to encompass activities for the effective treatment of pediatric cancer and patient care, including ongoing education and training for medical professionals; sharing of knowledge and expertise; establishing best practices in quality patient safety and care; developing and implementing effective clinical and research studies. The Aghia Sofia Children's Hospital, Sickkids Paediatric Cancer Project and ELPIDA is a partnership with the objective of establishing the Children's Oncology Department "Marianna V. Vardinoyannis – Elpida" as a centre of excellence in the diagnosis and treatment of pediatric cancer for Greece and the Balkan region.
The committee has set up a Facebook page that updates followers about the initiative. For tickets and information, visit the event's website. Follow the Canadian Embassy in Athens Facebook page for other news and initiatives that bring the two nations together.
http://bypeterandpauls.com/canada-and-greece-partner-in-pediatric-cancer-initiative/