Fork and Bottle
Published: Dec 3, 2009 - Posted by: City Life Staff
Fork and Bottle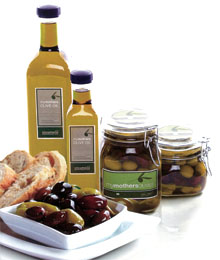 Explore the world of artisan cheese and authentic virgin olive oils.
MY MOTHER'S OLIVES AND OILS
Imported directly from Peter Eliopoulos' hometown in Greece, these items can act as a delicacy for you or as an ideal hostess gift.www.peterandpaulsbaskets.com
FIFTH TOWN CHEESE
This company's Bagel Chevre, which incorporates lemon thyme, cracked black pepper and goat milk, has a soft, creamy texture. When you chew into the firm Isabella cheese you can taste the nut, the goat cheese and the briny overtones. The Cape Vessey cheese's chewy washed rind, salt, 100 per cent fresh goat's milk and creamy palate makes for an intriguing combination. www.fifthtown.ca
FINICA CHEESE
Celebrity International Goat Cheese has a uniquely creamy taste. The fruitiness of the blueberries combined with the warm spiciness of the cinnamon serves to create an authentic Holiday treat. www.finica.ca
INTERNATIONAL RICOTTA
Imagine the sweetness of honey and the creaminess of ricotta on top of crispy bread. The balance of sweetness and crunch will stimulate your taste buds.
www.internationalcheese.ca
BELLA CASARA QUALITY CHEESE
Soft Brie cheese consists of a hard creamy fabric on the inside and a white layer of mould on the outside. Bella Casara possesses an attractive fragrance and taste that can be attributed to the combination of light butter, mushroom and hazelnut. Spicier alternatives include herb and garlic, and peppercorn. www.qualitycheese.com
PIZZA CUTTING BOARD
In the spirit of wine country, use this rustic cutting board, inspired by an age-old object found in a Napa flea market. This item is handmade from renewable mango wood, then aged and weathered for a genuine retro vibe.www.potterybarn.com
www.citylifemagazine.ca/2009/12/general-interest/recipe/fork-and-bottle/