Why You Should Sell to the EA And Not the CEO
Published: May 16, 2016 - Posted by: Catherine McIntyre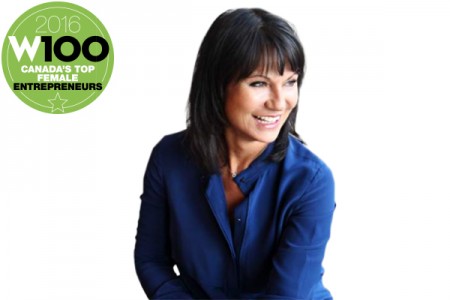 W100 winner Anna Eliopoulos understands that assistants—not bosses—often make or influence key purchasing decisions. How her hospitality business caters to them
When you're trying to clinch a big sale, it's natural to want to deal with the top person at the firm you're pitching. But while it's the CEO that signs the contract, it's his or her executive assistant who often decides whether your company's name will be on it.
It's an under-appreciated secret of B2B selling that Anna Eliopoulos has used to great effect. Eliopoulos is the president of byPeterandPauls.com, a one-stop hospitality company with eight event spaces across the GTA. In addition to owning and operating the venues-which host corporate holiday parties, trade shows, weddings, and fundraising galas-the Woodbridge-based entrepreneur runs a suite of service firms that provide everything from AV equipment and event photography to catering and party favours.
byPeterandPauls brought in over $25 million in revenue last year from clients like Mercedes Benz, Shoppers Drug Mart, RBC, and Ferrari. That propelled Eliopoulos to No. 59 on the 2016 W100 ranking of Canada's Top Female Entrepreneurs.
To win the business of these high-profile clients, Eliopoulos has learned to cater to a particular person within the organization. "The EA is the gatekeeper when it comes to what enters that office," she says, noting that assistants have unprecedented access to the CEO and influence over their decision-making, too.
But selling to the assistant is a distinctly different game than selling to the boss. While the CEO may be comfortable calling the shots in the office, event planning isn't always in their wheelhouse. The executive assistant, on the other hand, has a better sense of what works for everyone in the company.
"They're more in tune with what people want," says Eliopoulos. "They're interacting with most of the employees in one way or another, so if you're doing a holiday event, they're more aware of what that group wants in terms of gifts or a party than the CEO would be."
The EA also tends to have a lot more time than the CEO to suss out which supplier suites their needs best and to negotiate the details of the services to be provided. When Eliopoulos is trying to land a new client, she typically invites the EA to an event byPeterandPauls is hosting, to give them a sense of what their company does. "We host at least two events per quarter where we soft sell our services to our clients," says Eliopoulos. "At these events we keep the conversation social and try to extract as much information about their business where possible."
The invitation gives Eliopoulos a chance to build a positive rapport with the EA, which they then communicate to the boss. "The EA has the time to review the different services and summarize them for the CEO," says Eliopoulos. "And the message gets translated much easier and simpler than when we deliver it directly to the boss."
While transactions with CEOs tend to be one-and-done, Eliopoulos says an EA will network for you. "The assistant keeps our contact and shares what we do with other admin assistants, and their friends and colleagues," she says. "They tend to be more of a promoter of our business than a CEO would be."
If the assistant leaves for another employer, they take byPeterandPaul's card with them. "When working with EAs you, build a strong relationship," Eliopoulos advises. "Some of them I have worked with for years. However, they don't typically stay at the same company the entire time. When they move, I continue to be their supplier based on our relationship." She says nurturing these connections with EAs has helped expand her clientele.
When a CEO prefers to work directly with Eliopoulos, she focuses on keeping the meeting short and building the client's trust in her company. "It should be a quick, concise, straight-to-the-point meeting," she says. You want to explain what you offer and what you can do, and leave it at that.
"You never discount that connection to the CEO," she adds. "But you don't want to bother them too much because they're running a huge company." The last thing you want is to inundate the boss with decisions like what gift to put on the side plate for the Christmas party.
If you can't work with the EA, a better approach is to get the CEO to understand that you are the subject-area expert and that they're in good hands, says Eliopoulos. "It helps to say, 'We know how busy you are, so why don't you continue doing what you're doing and let us take care of those events. We're the experts. Why not leave that with us?'"
http://www.profitguide.com/manage-grow/sales-marketing/w100-anna-eliopoulos-bypeterpauls-com-who-to-sell-to-102952