Fundraising Gala Raises One Million Dollars in One Night
Published: Jul 7, 2015 - Posted by: Buildings & Civil Construction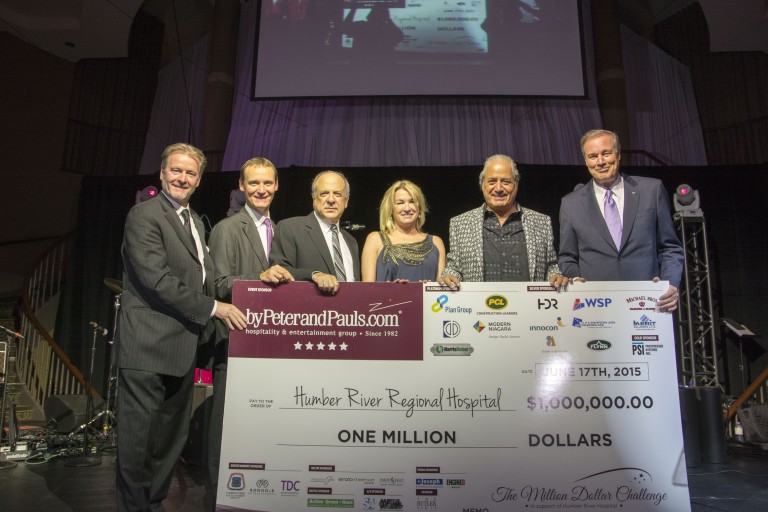 https://www.bypeterandpauls.com/media/6/fundraising-gala-raises-one-million-dollars-in-one-night http://bypeterandpauls.com/fundraising-gala-raises-one-million-dollars-in-one-night/
Toronto, ON (July 7, 2015) - On October 18, 2015, the new Humber River Hospital will open its doors to patients. In order to help the hospital reach its $225 million fundraising goal, hospitality and entertainment group byPeterandPauls.com, in collaboration with Humber River Hospital design-builder PCL Constructors Canada Inc. (Toronto), hosted a fundraising gala on June 17, 2015 that raised $1 million, in one night.
(L to R) Carpenters Union Local 27 President Mike
Yorke, PCL executive vice president Chris Gower,
President and CEO of Humber River Hospital
Rueben Devlin, President and CEO of Humber
River Hospital Foundation Heather Hurst,
byPeterandPauls.com founder Peter Eliopoulos,
and CTV News anchor and gala emcee Ken Shaw.
"When I first went on a tour of the new Humber River Hospital, I was impressed by the technology and felt an immediate emotional connection to the facility as well as the vision for the future," says byPeterandPauls.com founder Peter Eliopoulos. "Needless to say, I am deeply touched to be able to contribute to this celebration and I would like to challenge others to step up and give back to our wonderful community."
As the presenting sponsor, byPeterandPauls.com generously donated the venue, food, and beverages so that all proceeds raised can go directly to the hospital. PCL took the lead on fundraising, through the many trade contractors, consultants, and consortia partners who contributed to the construction of the hospital. The Carpenters Union signed on as the event's entertainment sponsor and made a strong contribution to fundraising.
"At PCL, we are more than builders. We are construction partners who are passionate about what we do and about our partners' success," says executive vice president Chris Gower. "We are extremely honored to help bring the hospital closer to its fundraising goal."
CTV News anchor Ken Shaw emceed the event, and Canadian singer/songwriter Jarvis Church entertained the crowd with an energetic and soulful performance. With more than five million hours worked without a lost time incident, a highlight of the evening included a special awards presentation that celebrated the safe construction of the hospital, and the people who helped to bring the hospital's vision for the building to life. Guests were also treated to a behind the scenes look at bringing the 1.8 million square foot hospital's vision to life through the perspective of PCLers who worked on the transformational health-care facility in this special video presentation.
"I am so proud of the entire construction team," says Gower. "Delivering this project in just 43.5 months while reaching five million hours worked without a lost time incident is an incredible achievement."
PCL delivered the project in partnership with Plenary Group, HCP Social Infrastructure and Innisfree (project co-sponsors), HDR Architecture Associates Inc. (architect), and Johnson Controls (facilities management) under the Government of Ontario's Alternative Financing and Procurement (AFP) delivery model.
At over 1.8 million square feet, Humber River Hospital's new state-of-the-art facility is located on a 27-acre block at Keele Street and Highway 401 and includes a 14-storey tower, a separate central utility plant and 2,000 parking spaces in two parking structures. A technological and environmental showcase, the design incorporates complete digital integration and interoperability, which creates an enhanced experience for patients and families; saves sneaker time for staff, which prevents the duplication of work; and improves safety and efficiency.
ABOUT PCL CONSTRUCTORS CANADA INC. (TORONTO)
PCL is a group of independent construction companies that carries out work across Canada, the United States, the Caribbean, and in Australia. These diverse operations in the civil infrastructure, heavy industrial, and buildings markets are supported by a strategic presence in 31 major centres. Backed by PCL's 100 year legacy, and with more than four decades of experience in Southwestern Ontario's dynamic construction market, the Toronto office is PCL's largest district with more than 600 of the construction industry's most-talented professionals and an annual construction volume of more than $1.4 billion. For more information, visit PCL.com/Toronto.
ABOUT BYPETERANDPAULS.COM
byPeterandPauls.com has been a leader and an innovator in the hospitality and entertainment industry for more than 34 years. What started as a small restaurant/bakery has grown to include several state-of-the-art venues and companies offering services ranging from off-premise catering, decor, creative gift ideas, event management, DJ and A/V solutions, photography, video production, advertising & design. Today, when it comes to the corporate and social market, byPeterandPauls.com is the ultimate one-stop entertainment destination for all your hospitality and special events needs. Over the years, byPeterandPauls.com have raised and given well over 3 million dollars to many various charities. For more information, visit bypeterandpauls.com.
FOR MEDIA INQURIES, PLEASE CONTACT:
Jennifer Nelson
Communications Specialist
PCL Constructors Canada Inc. (Toronto)
416-473-9203
jnelson@pcl.com
http://www.pcl.com/news-and-media/news-releases/pages/fundraising-gala-raises-one-million-dollars.aspx