West Woodbridge To Be Site Of 85000 Square Foot Banquet Hall
Published: Jul 22, 2016 - Posted by: Adam Martin-Robbin - Vaughan Citizen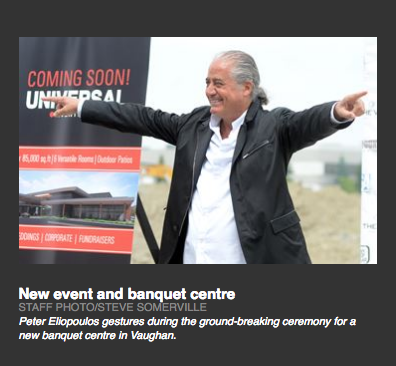 Vaughan is often, jokingly, referred to as the banquet hall capital of Canada.
A quick search reveals there are more than two-dozen here already - and that's not counting those inside local hotels or at golf courses.
But Peter Eliopoulos, founder of byPeterandPauls.com, felt there was room for at least one more.
Of course, Eliopoulos says his new 85,000-square-foot facility, dubbed Universal Event Space, is unlike any other in the city, including The Paramount and Bellagio, which he also owns.
Rather, it brings together everything he has learned during 33 years in the hospitality industry.
"This facility is going to be second to none," Eliopoulos said during a groundbreaking ceremony at the corner of Hwy. 7 and Hwy. 27 in Woodbridge Tuesday. "I think it's probably the best facility in the world; for sure in Canada, anyway. It's going to breathe, think and surpass any expectations in the hospitality industry"
The $32-million, freestanding event centre boasts six versatile rooms with a main ballroom that can seat up to 1,500 people, two outdoor patios that can accommodate more than 300 people and "state-of-the-art technology," he said.
And then there are the lobbies, which will feature something so unique Eliopoulos isn't quite ready to reveal it.
"The way I look at it, I'm the leader in (the industry)," said the 59-year-old entrepreneur. "We're cutting-edge. We always create something new, something inventive."
Eliopoulos got his start more than three decades ago with Paul's Fine Foods, a restaurant and bakery on the border of Toronto and York Region.
Since then, his company has grown to include six event venues and six companies ranging from catering, gift baskets and event management, to DJ and audio/visual solutions, photography, advertising and design.
"It's days like this that really crystallize and are the embodiment of that which is beautiful about city building," Mayor Maurizio Bevilacqua said during the groundbreaking ceremony. "We're all born with a gift and great cities are those cities where those gifts are shared; where people actualize themselves. And Peter does this, day in and day out, in the hospitality industry, but also as an individual who is willing to participate in the life of this great city."
Universal Event Space is slated to open in August 2015.